Kathmandu city tour ,experienced local guided historical, cultural tour operated by Eco Holiday Asia . This tour is designed for feel the local culture, religion, tradition and history of Kathmandu valley .   Tour started daily on 9 am from Thamel ( can pickup from hotel)
First we discover Holy sight Pashupati Nath Temple – One of the sacred holy place of Hindus and Buddhist from the world . 
We following tour to Baudhanath Stupa Holy sacred place for Buddhist and Hindu from the world . This Stupa is also famous for Tibetan buddhism .
The Buddhist stupa of Boudhanath dominates the skyline. The ancient Stupa is one of the largest in the world. The influx of large populations of refugees from Tibet has seen the construction of over 50 Tibetan Gompas (Monasteries) around Boudhanath. As of 1979, Boudhanath is a UNESCO World Heritage Site. Along with Swayambhunath, it is one of the most popular tourist sites in the Kathmandu area. More
The Stupa is on the ancient trade route from Tibet which enters the Kathmandu Valley by the village of Sankhu in the northeast corner, passes by Boudnath Stupa to the ancient and smaller stupa of Cā-bahī (often called 'Little Boudnath'). It then turns directly south, heading over the Bagmati river to Patan – thus bypassing the main city of Kathmandu (which was a later foundation). More
Our tour is following to Swayambhunath also known as Monkey temple
an ancient religious architecture atop a hill in the Kathmandu Valley, west of Kathmandu city.The Swayambhu complex consists of a stupa, a variety of shrines and temples, some dating back to the Licchavi period. A Tibetan monastery, museum and library are more recent additions. The stupa has Buddha's eyes and eyebrows painted on. Between them, the number one (in Devanagari script) is painted in the fashion of a nose. There are also shops, restaurants and hostels. The site has two access points: a long stairway with 365 steps, leading directly to the main platform of the temple, which is from the top of the hill to the east; and a car road around the hill from the south leading to the south-west entrance. The first sight on reaching the top of the stairway is the Vajra. Tsultrim Allione describes the experience
Our Final spot to see is Temple of city , Hanuman Dhoka Durbar Square also known as Basantapur Durbar Square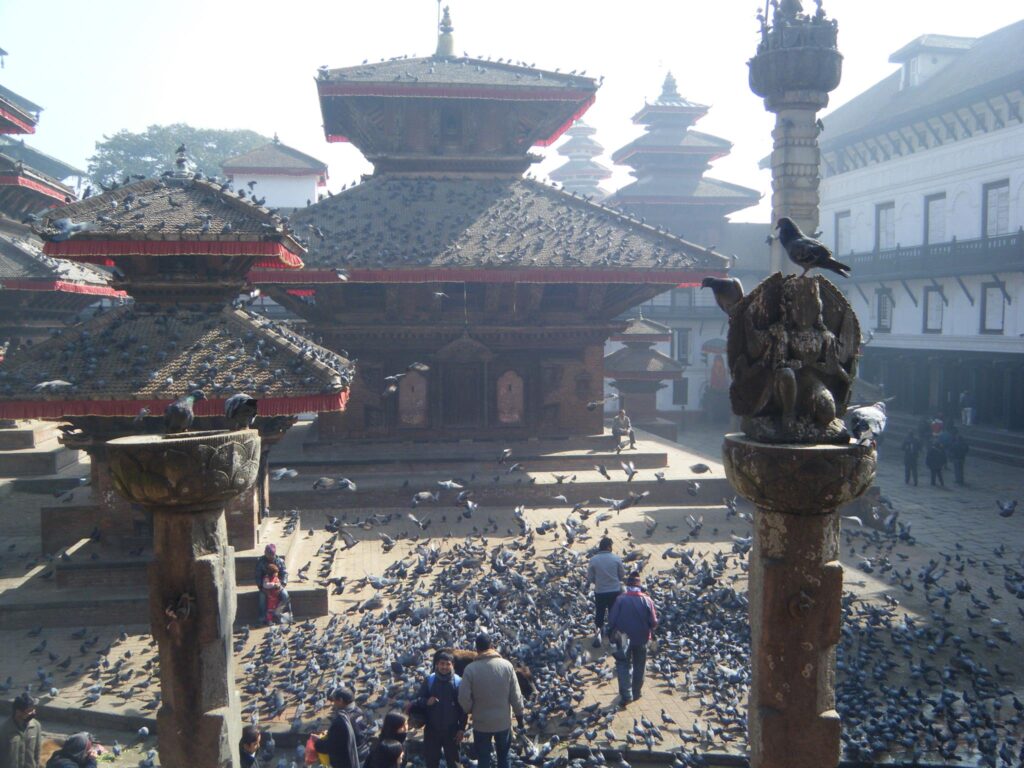 Hanuman Dhoka is a complex of structures with the Royal Palace of the Malla kings and also of the Shah dynasty in the Durbar Square of central Kathmandu, Nepal. It is spread over five acres. The Hanuman Dhoka Palace (Hanuman Dhoka Darbar in Nepali) gets its name from the stone image of Hanuman, the Hindu monkey god, that sits near the main entryway. 'Dhoka' means door or gate in Nepali.